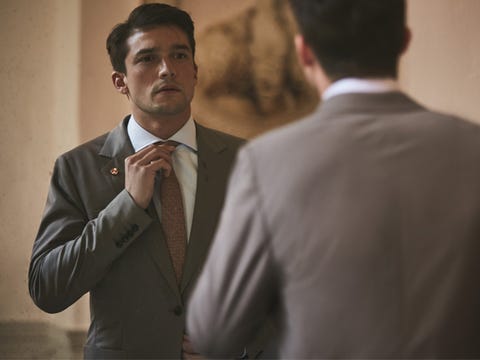 An invitation to a fantastic event has arrived and you need to look the part.  Perhaps you've never needed to buy a suit before, or perhaps you have something decades-old gathering dust at the back of your closet. Either way, you need to go out and get a suit which can make you look and feel great, and will fill you with confidence on the day.
Luckily, there's a very standard code of dress for men at formal events: the suit. While this definitely narrows down your options, finding a classic, flattering suit isn't always straightforward or easy, particularly when you have limited time or a smaller budget.
Cheaper off-the-rack options can be tempting, but are they worth the savings?
Here are some important things to remember so that you buy the right suit the first time:
Your new suit is an investment
Changes in men's fashion are typically subtle and slow to happen. This means that the suit you buy now should still look on-trend for many years to come, providing you pick a classic cut and fabric.
Use this as a reason to push your budget as far as you can so that you can pick a high-quality fabric and great tailor.
You don't always pay more for a bespoke suit
There are lots of good things to be said about both bespoke and off-the-rack suits. Both can fit a variety of budgets; both can look amazing if a beautiful type of fabric is used.
Made-to-measure suits typically come out more expensive than off-the-rack. After all, the tailor has taken the time to take precise measurements and listen to your requests. But this isn't always the case. Off-the-rack is usually a faster, more convenient option since you can just pop into a store and take your suit home the same day.
On the other hand, tailor-made suits will fit incredibly well and will be made to your exact specifications. They may also not be as costly as you might think.
For example, tailors making custom suits in Nashville have found inventive ways of working to lower costs for customers. They work from co-working offices instead of retail spaces, and hold pop-up tailoring events.
Looking good will help you feel good
You'll want to feel confident and at ease for your special occasion, so you need a suit that flatters your body shape. A bespoke suit will fit perfectly, highlighting all the right parts of your body and downplaying the bits you don't like so much. It will be the perfect length, too.
Confidence is so much harder to achieve if you are buying off the rack. An off-the-rack suit is very unlikely to be a perfect fit, and if it is too tight or too loose in places, it can highlight parts of your body you'd rather it didn't. For the same reason, always prioritize a good fit over color, detail and fabric.  
Don't forget to think about comfort
Whatever the special occasion is, you are likely to be wearing your suit for much of the day. You may be sitting and standing for long periods of time. You may need to keep warm or fend off heat. This is why you need to factor in comfort in your choice of suit as well.
Before you take a suit home, check that it is comfortable to move in. Can you sit in it comfortably without it pinching anywhere? Do you feel it's going to warm you enough or cool you enough?
Your suit should reflect your personal style
A classic cut is great for all occasions, but don't forget you can still add some individual style to your bespoke suit. Choosing some unique buttons is a perfect opportunity to do this. Subtle detailing on the lapel and pockets can add flair, too.
Fabric color and patterns can reflect your personal style. However, a particularly bold suit can detract attention from what is being celebrated at a special occasion.
Try to be sensitive in this way, and remember that the more classic the fabric and cut, the longer the suit will last. A charcoal grey suit is a classic that suits almost every occasion.
Heed this advice and you'll have a suit that is a pleasure to wear for every occasion, for many years.
AUTHOR BIO
Alpha Suit is the brainchild of Master Haberdasher, Sean McKee. Over a span of more than two decades, Sean has provided custom suits to some of the most successful leaders in America. With Alpha Suit, he now brings this same premium service to you, but at 60-70% less than the traditional price.